Taiwanese information technology provider Micro-Star International Co. (MSI) joined other tech companies in developing the Internet of Things (IoT) applications. The leading gaming brand tapped into the IoT industry and smart home business by rolling out two 360-degree IoT cameras — PANOCAM and PANOCAM Pro — at the Computex 2015.
PANOCAM
PANOCAM is MSI's first IoT product. It has a silver cylinder-shaped aluminium alloy body and sports a fisheye FF 180-degree camera with 1,600x 1,600 resolution and built-in 1/2.5-inch CCD sensor. The camera is also Wi-Fi-enabled. Different from most of the home security cameras on the market that have limited angle of views, PANOCAM provides 360-degree angle with fisheye lens and supports time-lapse videos.
In addition, PANOCAM comes with a speaker at the bottom of the device and a microphone above the LED light on the side of the camera, allowing two-way communication.
PANOCAM Pro
PANOCAM Pro is an upgraded version of the PANOCAM. The Pro version comes with the same basic specs the PANOCAM, but is added with night vision ability. The fisheye camera is fitted with six infrared LEDs and provides better nighttime viewing and videotaping.
SomeThings App
The SomeThings App, which can be used to control the camera, currently supports Android and iOS devices. The app helps users execute functions including time-lapse videotaping, local recording, two-way communication, multi-point surveillance, sound and motion detection and auto alerts. When viewing surveillance footage via the app, users can choose to see the video in panoramic view, or to display four scenes at a time. Each of these four scenes can also be enlarged independently.
To monitor motion or possible break-ins, users can set up the camera for continuous motion and sound detection via the app. The camera will cover 360 degrees, which will be divided into eight sections. Users can designate the camera to monitor each of the eight sections. Any sound or motion picked up in the monitored section will activate videotaping and an alert will be sent to the users.
Previously, MSI has introduced its first-generation PANOCAM in January with a price tag of NT$6,990 (US$226.19). The Pro version will be released in mid June and the price is estimated to be NT$1,000 higher than the older model.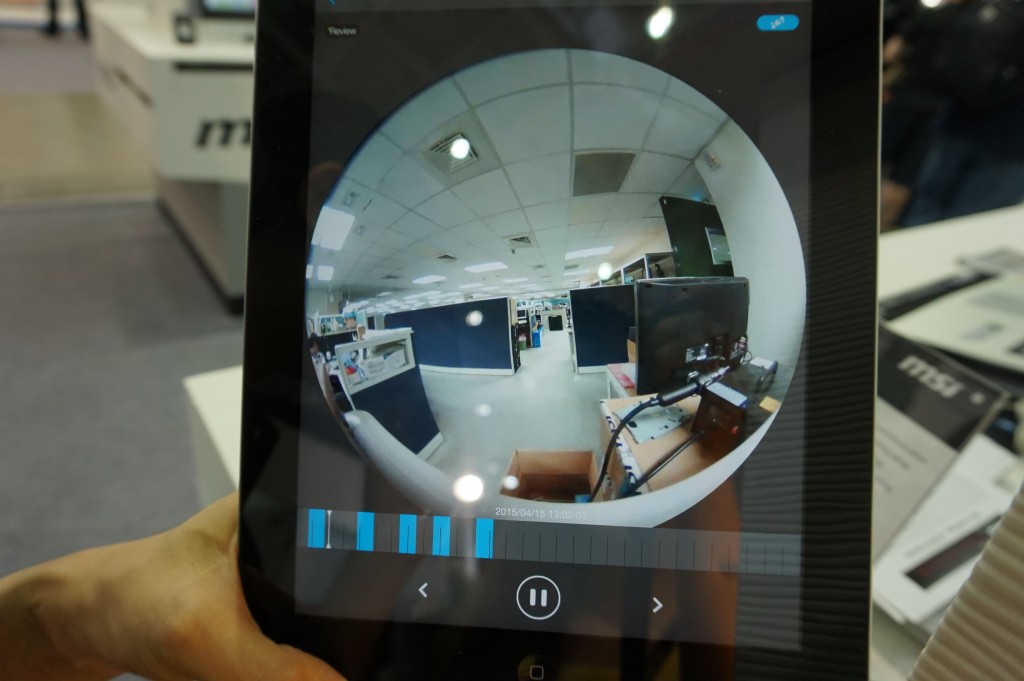 (Photos by TechNews)