At this moment in the history of the LED industry, we have already witnessed it pass into the maturity stage, and succeed in new territories. LED chip manufacturers and packagers worldwide have now been gradually shifting their focus to develop products for niche markets, including UV LED, IR LED, automotive, horticultural, and even smart lighting.
On several trends they are riding, these niche markets, for the LED industry, do show potential growth and high gross margins. Back in 2013 when an international treaty the Minamata Convention on Mercury was signed to protect human health and the environment from anthropogenic emission and use of mercury and mercury compounds, it gave a heads up to bring an end to the use of mercury lamps, which instead made way for UV LEDs. When iris/gesture recognition and 3D sensing became popular, the IR LED market value saw a surge, expected to reach a whopping USD 710 million at a CAGR of 24% by 2020.
Hongli Zhihui Group (Honglitronic)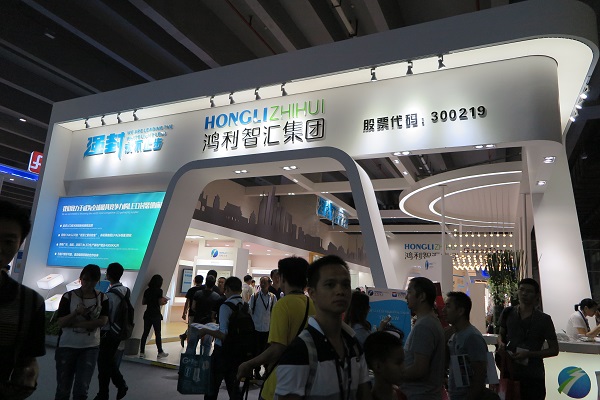 Honglitronic's booth (LEDinside)
The lineup Honglitronic displayed at GILE 2017 pretty much summed up the recent trends happening in the industry and signaled its determination to secure its leading position even in the future.
ShenZhen XSSY Industrial Co., one of the group's subsidiaries, announced its newly-developed mini array IR LED-LP 2835, claimed to be the smallest IR LED package seamlessly sporting a micro lens, of which the optics induced high output and low heat within such a small area almost two-thirds of that of a regular IR LED. This LP 2835 package can be tailored with different beam angles- 30°, 45°, 60°, 100°, 120°, providing various radiant intensity ranging from 20-100mW/Sr.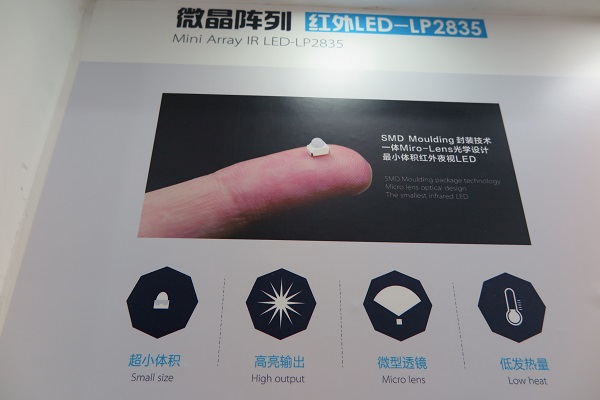 Honglitronic's small scale IR LED- LP 2835 (LEDinside)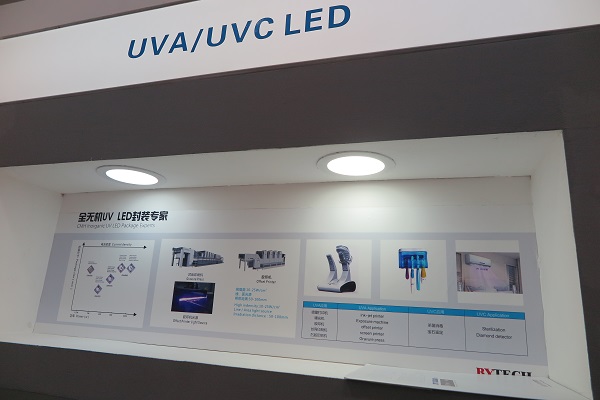 The comprehensive portfolio of Honglitronic and Bytech's UV solutions (LEDinside)
Likewise, Honglitronic in 2016 procured 51% (60% as the Group claimed it) of Bytech's shares and made this company that first launched full inorganic UV LEDs in China one of its subsidiaries to step into the UV LED market. The inorganic packages showcased encompassed CMH6060, CMH3030, CMH6868, CMH4545, and CMH3535. The first two of them were new, the following two were already mass produced, and the last one was still under development.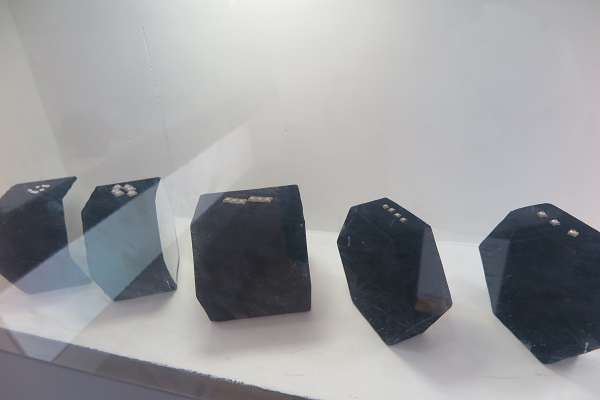 The inorganic UV packages encompassed CMH6060, CMH3030, CMH6868, CMH4545, and CMH3535. (LEDinside)
Horticultural lighting is also deemed a promising specialty lighting segment, most notably when North America expressed a strong demand for grow lights after six states legalized marijuana and so did some other places for growing highly profitable specialty plants as jewel orchids. For this market segment, Honglitronic provided the full wavelength C3535 package.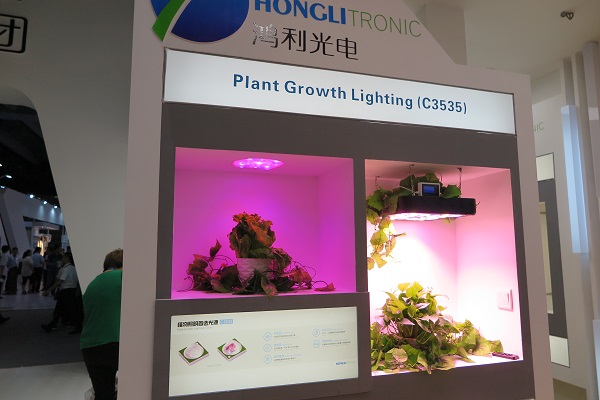 The display of the C3535 package (LEDinside)
Automotive lighting, both exterior and interior, consumes more and more LEDs as well. LEDs are considerably well received in China's passenger vehicle market (and so much more desired in the electric vehicle market), especially when they present signatures of brands through lighting, which is the main reason automakers are willing to adopt LEDs. Also, inside a car, LED plays a pivotal role creating pleasant ambient lighting and showing information by illuminating it out.
It is even said that possibly in the future cars will not need rearview mirrors as two displays will be installed near the sterling wheel, showing the situation around the car instead.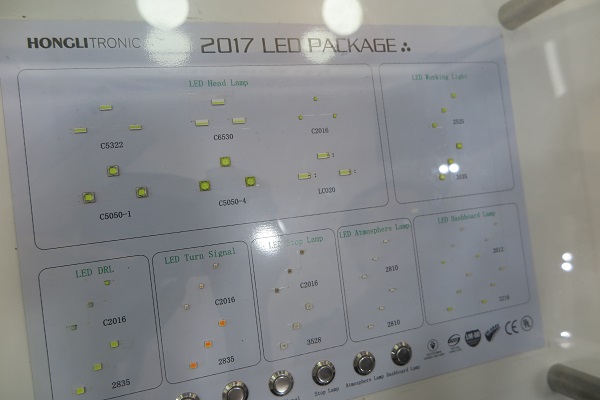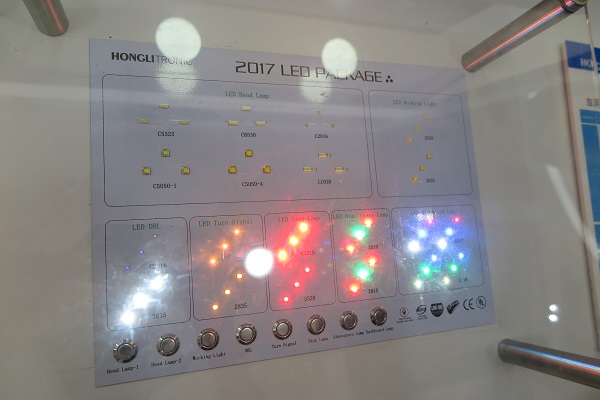 Honglitronic's exterior and interior automotive LED lineup (LEDinside)
Smalite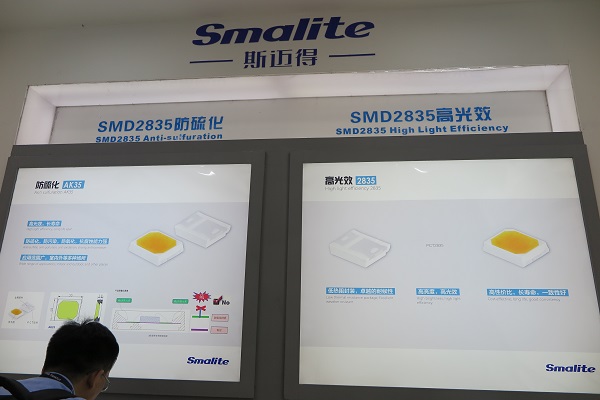 The products Smalite brought to GILE this year were mainly in the 2835 package size. (LEDinside) 
Different from its parent company Honglitronic, instead of producing LEDs of its own brands, Smalite mainly manufactures products outsourced from other, mostly international, companies. This also happens to other small and medium-sized LED packagers in China. Over recent years, aside from Tier 1 LED packagers, such as MLS, NationStar and Honglitronic, among the rest, those with relatively small scales have been gradually ruled out. Obviously, the big get bigger.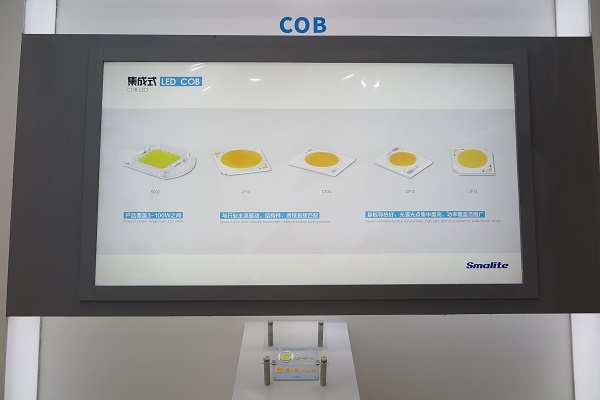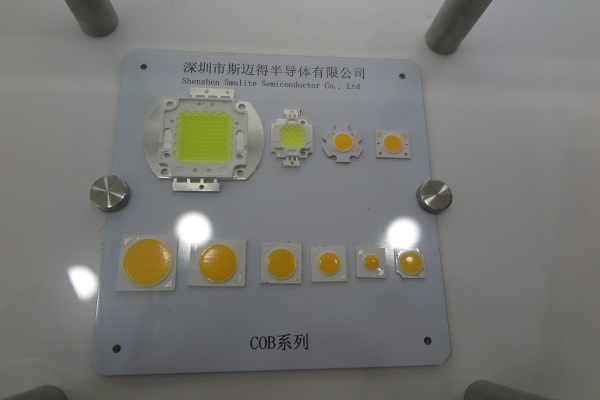 Smalite's integrated CoB LED series (LEDinside)
Naturally, for those wanting to survive, receiving orders outsourced is considered a way to sustain their businesses. Therefore, companies including Lightning, Smalite and BMTC followed this pattern to scale up.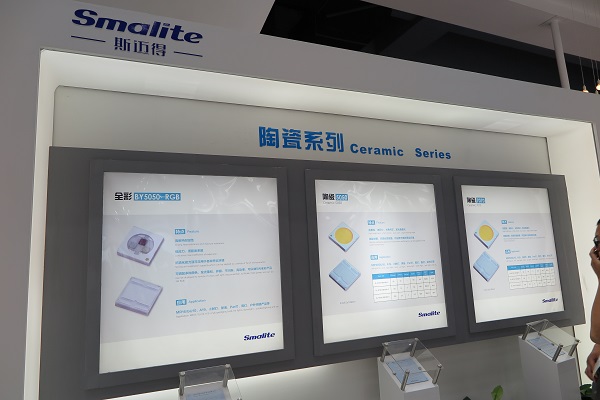 The ceramic series (LEDinside)
Despite comparably low margin from OEM line products, surprisingly, those companies, including Smalite, reported financial results proving OEM businesses contributed to drastic earnings. According to a report from LEDinside, over the period from 2013 to 2016, the consolidated OEM capacity has already experienced a total growth several times more than the reference amount at the beginning.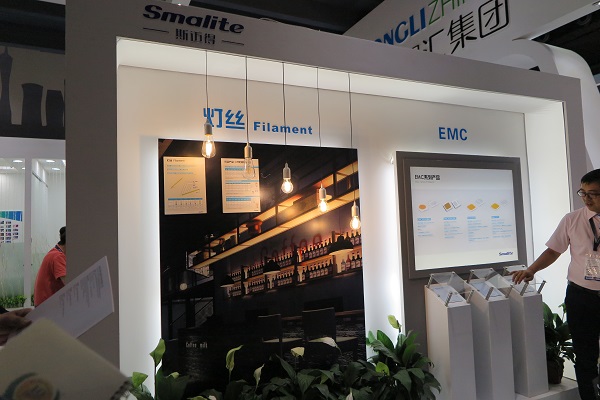 Smalite also showcased LED filaments with a uniform CCT of 2725k. (LEDinside)
With the facts that more and more demand for OEM services from international lighting giants flows into China and that the quality of Chinese LED light sources, supported by new manufacturing machines (eg. MOCVD), rises, the bloom of the LED chip and package industry in China is predictable, and basically unstoppable.
LatticePower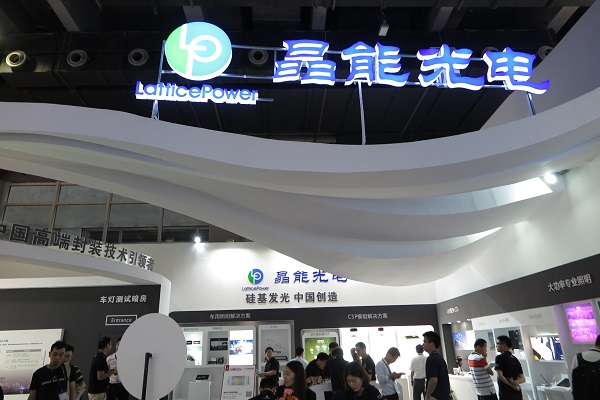 LatticePower (LEDinside)
The highlights of LatticePower's exhibits this year were its CSP packages, automotive LEDs with special optical designs, the LED grow light series, and silicon-based UV LEDs. The company launched CSP1313 (1-3W) and CSP2121 (3-5W). Essentially different from the majority of CPSs in the market, LatticePower's CSP LEDs were manufactured with exclusive technologies, enabling low thermal resistance controlled within a range between 0.5°C-0.8°C/W, a simple appearance without gold wires and stents, and single-sided light emission (from the surface).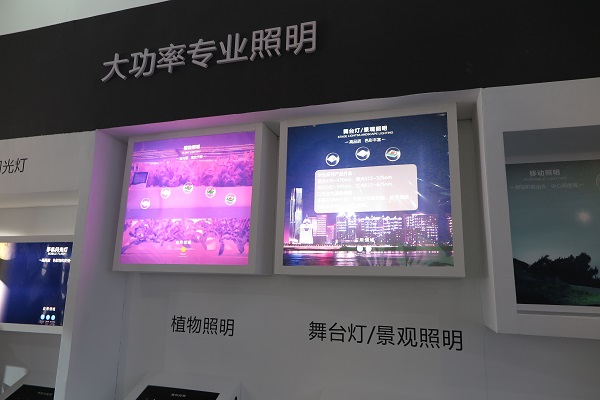 LatticePower's package lineup covered horticultural, stage, and landscape lighting. (LEDinside)
LatticePower's high power horticultural LED package series came in five colors-purple, blue, green, amber and red, covering a full range of wavelength from 380nm to 730nm. In particular, the XE-RED series are a new launch in hope to offer plants red light rays within 610nm and 720nm to foster more effective photosynthesis.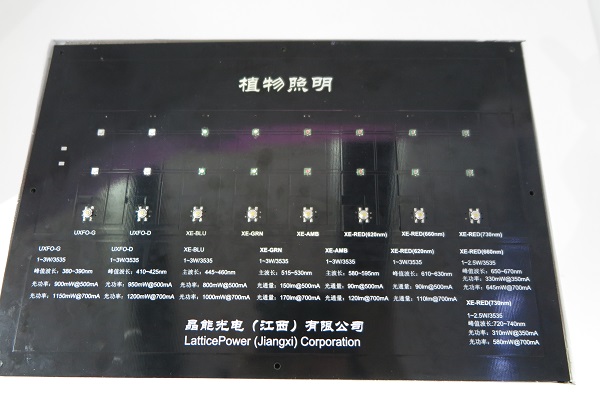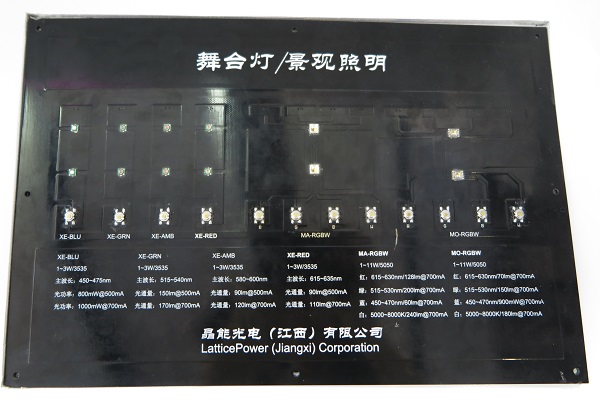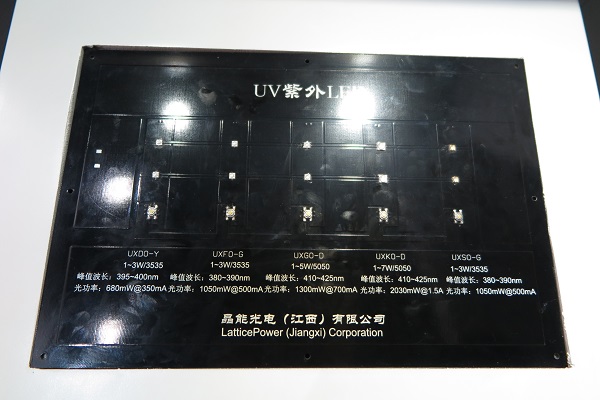 The display of horticultural LEDs, stage and landscape LEDs, and UV LEDs series. (LEDinside)
Same as the CSP series with the property of single-sided light emission, the silicon-based UV LED series feature high light intensity, suited for applications such as UV nail lamps and fluorescent penetrant testing. As for the automotive LED lineup, LatticePower redeveloped the packages for rear lighting by moving LED chips slightly close to one side of the package (instead of placing them in the middle) so that they present better optical performance.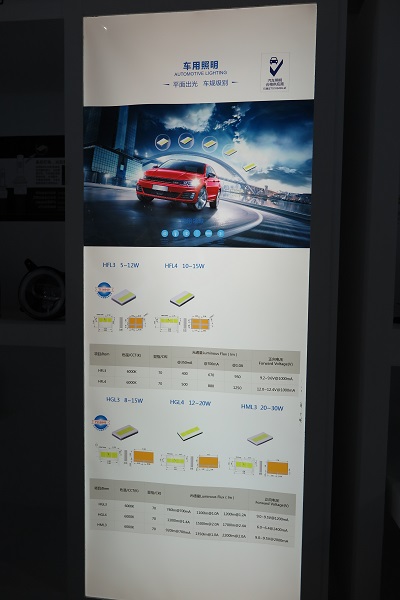 The automotive LED package series (the upper two packages for rear lighting and the three below for front lighting) (LEDinside)
Article by: Eva Huang (LEDinside)