Carved out as an independent entity from Osram, LEDVANCE has been advancing its general lighting products, adding more quality, convenience, and smartness to them. It reported in July a consolidated sales of USD 2.1 billion in 2016, sharing an outlook that it witnessed the trend lighting is becoming smart and the market anticipates more intelligent and efficient lamps. LEDVANCE successfully extended its product lines to meet the need for smart lighting.
LEDinside had an interview with Aaron Ganick, Global Head of Smart Business, LEDVANCE on the company's newly launched SYLVANIA SMART+ A19 bulb and the trends of smart lighting in the next five years.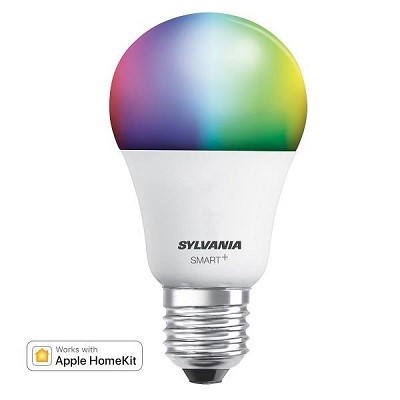 LEDVANCE SYLVANIA SMART+ A19 bulb (Image: LEDVANCE)
In the first week of September, LEDVANCE launched the first-of-its-kind full color smart LED bulb SYLVANIA SMART+ A19 that can be easily operated and controlled through Apple's HomeKit app and versatile voice assistant Siri without an additional gateway or Wi-Fi networking systems. The collaboration with Apple has made this little smart bulb more user friendly. The installation-screw in the bulb and search for it with HomeKit by scanning its code or putting in its product numbers- takes less than 20 seconds. Users then can immediately tailor personal scenes and settings and begin the use with the interface on the app and voice control.
The convenience it brings is not limited to indoor use. The bulb is able to be controlled remotely as well in the way that users use a stay-home Apple device, such as Apple TV or an iPad, as a bridge to switch on and off, dim, and change colors of the bulb via Bluetooth before they step into their home.
In terms of its portfolio of smart lighting products, LEDVANCE has been R&D'ing both Zigbee- and Apple HomeKit enabled products targeting different wireless technology users under the brand name SMART+, according to Ganick. "By introducing a Bluetooth based 'hub free' a portfolio, we are able to serve another side of the market, one that wants a simple to setup, no additional components needed type of solution," he said.
Raise Awareness of Smart Lighting: Second Chance to Upgrade
Some people might find smart lighting technology intimidating, especially older people; and kids can be just too young for sophisticated operation. When the use of smart lighting products is simplified and becomes more accessible, the concept of smart home could approach a larger community. Ganick explained through the simplification LEDVANCE aims to raise more awareness of smart lighting/smart home. "When smart lighting becomes so simple to install and use, more customers will be willing to give it a try. Adding voice, brightness, and color control gives a wow factor, and a reason to upgrade your lighting beyond investing in LED technology," contended Ganick.
In 2016, LEDVANCE conducted the 8th SYLVANIA Socket Survey revealing the awareness and the adoption of smart lighting and LEDs are both on the rise, with 76% of the surveyees agree smart lighting will eventually supplant regular light bulbs. Along with thermostats and house alarms, lighting has become one of the top smart technologies Americans own. It shows a surge of 40% in the adoption of smart lighting in 2016, compared with that in 2015. Four out of every five Americans expressed at least one space in their houses can benefit from smart lighting and a 55% purchasing population replied with the likelihood to purchase new smart LED bulbs.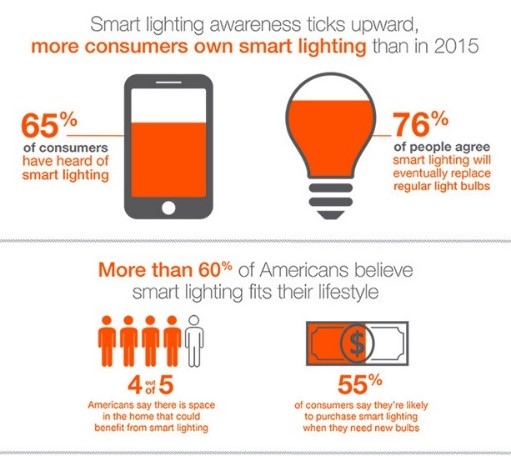 (Source: LEDVANCE)
However, the number of the actual smart lighting user population is still less than those promising figures above. That is also the current challenge LEDVANCE has encountered.
In fact, not just LEDVANCE but several industrial heavyweights pointed out it requires some time for smart lighting to be adopted as widely at home as in industrial or commercial spaces due to the lack of necessity and purpose. It needs more factors, from outside or within the end-customers, extended smart cities policies or an urge for high speed data transmission via light, for example, to drive the penetration growth of smart lighting in the residential sector.
Ganick unveiled, "LEDVANCE is working hard to market the features and functionalities of our smart products to not only our direct customers like Amazon, Costco and Home Depot, but to the end-customers themselves. People don't wake up in the morning thinking 'hey, I should go buy a smart bulb to help me go to sleep easier, and wake up better,' they have to learn about the experiences and use cases for products that they most likely have never heard of before." How to directly deliver the concept to the end-users and propel them to install smart lights becomes the company's major goal.
Barrier of Entry into the Smart Lighting Market Will Be High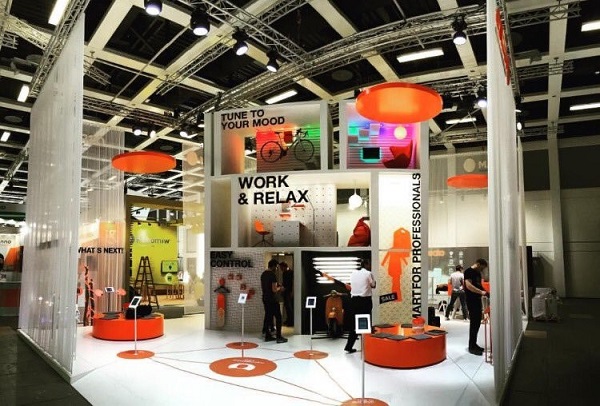 (Image: LEDVANCE)
Smart lighting applications represent the next generation of lighting. Ganick believes it will for certain help pump up the LED industry within or even less than a decade, especially that the property of LED- real time reaction- makes it currently one and the only light source able to connect with digital components for digital lighting. That differentiate LED from other lighting technologies.
The massive amount of user data smart lighting products collect is also able to feedback the LED industry preferences of end-users, enabling LED makers to improve their products with spot-on advancements. To be able to connect with systems like Apple's HomeKit, they have to ensure their products meet a set of stringent quality requirements.
During the process of quality upgrade, barriers of entry will be shaping up higher. For small and mid-sized smart light manufacturers currently in the smart lighting space, without enough finance and technology to invest in the quality upgrade, they will hardly survive. Eventually they have no choice but to exit the market or be acquired by larger companies that can both financially and technically support them to carry on their development. On the other, the big get bigger. The space of smart lighting, in the following years, is projected to be more concentrated.
Another trend showing in the market is the rise of the voice controlled product segment, Ganick added. At present, the Zigbee-based smart lighting segment is relatively big. Despite the fact that a solid voice sensing technology foundation is yet to fully develop beyond simple commands and routines, with the inherent benefits that it can bring to the disabled, the elders, and kids and that it operates without a hub, voice-controlled smart lighting has a high chance to scale up and the demand will certainly soar, Ganick expects.
original link: http://www.ledinside.com/interview/2017/10/ledvance_looking_to_raise_more_consumer_awareness_of_smart_lighting
(Aaron Ganick, Global Head of Smart Business, LEDVANCE, was interviewed by Joanne Wu, and Evangeline Huang. The article was written by Evangeline Huang, Editor, LEDinside)